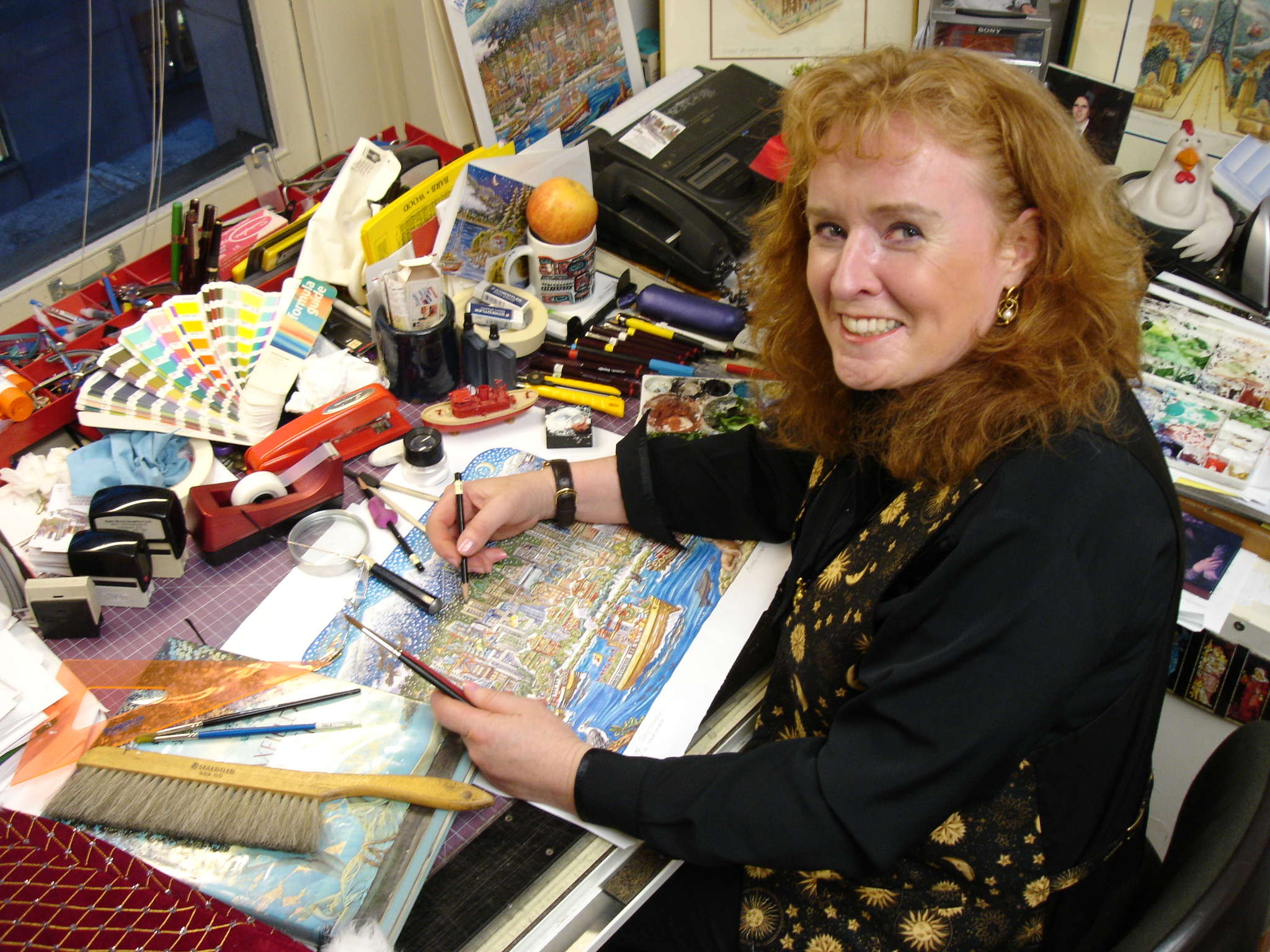 Barb Wood was born in Halifax in July 1953. Her father Bill was fresh out of the RCAF as a fighter pilot and worked with the Bank of Nova Scotia. Her mother Sue was a Toronto lass from a large family of girls. Barb was the second child, having older brother Michael to watch out for her.
Barb's character was formed very early, as she was born with deformed feet and had to undergo several operations as a child. Her red hair, strong will, and great parents helped her overcome all obstacles. She was restricted in her movements after surgery, and this had her parents looking for outlets for her talents. Art was a natural one, and she excelled at it from an early age. A favourite story of Barb's tells of her mom painting little faces on the mushrooms growing outside her bedroom so that, when she looked out in the morning, she imagined that "little people" had been there overnight. Barb's world was populated with all the fairies of Arthur Rackam's illustrated children's books, and all the magical little animals of Beatrice Potter and the Wind in the Willows. She remained that way all her life. This imagination made her the most delightful of people to be around.
Barb studied architecture and fine arts at the University of Waterloo from 1972 to 1976, graduating with an honours Bachelor of Fine Arts degree. Her great mentor and lifelong inspiration was Waterloo Professor Virgil Burnett, a "soulmate of the pen" if ever there was one. They continued to correspond and share their art, back and forth, until his death at 84 in 2012. In 1973, while studying architecture, she met the love of her life, Don Hazleden. In 1977, they were married, and 18 months later, they took off for a year of touring and study in Europe. While living out of a Volkswagen van, they traveled the length and breadth of the continent and the UK. She filled several dozen sketchbooks and he studied the architecture.
In 1980, she set up Barb Wood Graphics Ltd. and launched her commercial art on the Vancouver scene. She became a partner in a successful printmaking co-op and gallery, Six of One, on Granville Island and her etchings caught the eyes of many notable tourists. Her commercial work appeared in many local magazines and newspapers. Corporate clients included the Bank of Nova Scotia, BMO, RBC, BC Sugar, Dairyland, Neptune Terminals, BC Ferries, the City of Burnaby and several other municipalities. Barb always filled her desk with private commissions: often, people wanted their home or beach house portrait painted with their favourite dog or sailboat in the picture. She enjoyed the private commissions immensely, and her clients liked her back, as she was often invited back to their homes for social events.
Sons Arthur and Roger came along in '87 and '90. When asked by the boys if she wanted her work to be in the VAG, she usually responded that it was more fun to be the "people's artist" rather than that of the curators', and have her work hanging in homes and offices. She has left her touch of delight on many people, especially her two sons, in whom her imagination continues to grow.
"The life given to us by nature is short, but the memory of a life well spent is eternal" — Cicero
Barb died of heart failure on March 19, 2014 in her 61st year. Barb's memory will live on in her art and the joy she gave to those who knew her.